{we are an affiliate site, we may earn a commission when you purchase through the links on our site}
This question can cause heated debates between pet lovers and owners. While sleeping with your fluffy puppy
For your dog's vitamin supplement, food, toys, or other dogs product please visit the Sundays for Dogs
website.
Allergy
You probably wouldn't be getting a dog if you knew you had dog allergies. However, people have allergies to some breeds, but not all breeds.
It is the pet dander, or shedding of dead skin that causes allergic symptoms such as sneezing, watery eyes, runny nose, etc.
Even if you are not highly allergic or do not have allergies at all. Having your pup in the same bed may activate an allergic reaction or exacerbate an existing allergy.
To check your shepherds' health status or their DNA checks, please visit the Embark vet
website for all the help you may need.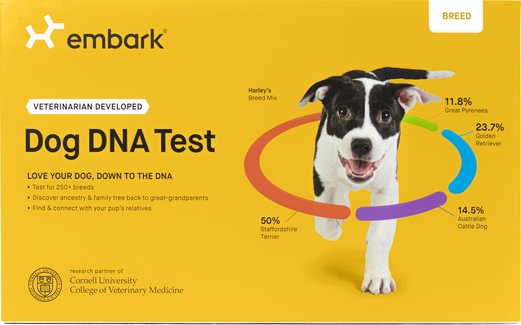 Sleep disturbance
Sleeping with your dog may seem like a warm, comforting situation, especially in the winter.
But how about sharing a bed with a large fur-covered
 German shepherd in the summer months? What if they hog the bed, snore, or even chase squirrels in their sleep? What if you snore or hog the bed? No one is going to get a good night's sleep.
Hierarchy of the pack
Some dog psychologists think that due to pack behavior and instinct, the pack leader should always sleep above the pack. If your dog is sleeping next to you, it may show them that they are your equal.
This can lead to problems and sometimes aggression and confusion about the status of the pack leader. There should be no question about who the pack leader is; you.
With your German shepherd
, sleeping in their own bed there will be no confusion.
German shepherd Puppy
Your German shepherd puppy needs a good and restful night's sleep so they can be bright-eyed and bushy-tailed, ready for a day filled with fun, play, and adventure.
They will need a bed that is comfortable and leaves room to grow, as puppies quickly shoot up and out.
Your German shepherd puppy
, especially when first joining your family. Will need a warm. Comforting bed.
They will be away from their mother and littermates for the first time and may feel lonely and cold from not having a warm body to cuddle with.
They need a bed with a soft Sherpa or synthetic sheepskin interior to keep them snuggly. "Cave" dog beds are available that will safely cocoon them.
Heated dog beds are also accessible if your puppy's place to call their own is in a drafty area, such as a basement or rec room.
Measure your German shepherd puppy before buying or ordering. Allow extra room to grow and keep in mind that your German shepherd puppy may grow into quite a large adult.
This bed will just be a temporary haven for them until they are full-size. Make sure the bed isn't too high that your cute pup can't climb in or out. Some have openings just for that purpose.
Since puppies have accidents and can be quite messy, choose a bed with an easy-to-remove, washable cover.
Sometimes after removing the cover, the bed is waterproof and can be easily wiped, while the cover is being washed.
If there is no removable cover, check to see what the stuffing is made of and that the whole bed is washable and dries quickly.
You don't want a bed that comes out of the washer a big drippy mess and has stuffing that dries in lumpy mounds.
Finally, for a puppy, durability is another concern. Some puppies are big chewers, mostly when teething. The material and stuffing need to hold up to sharp little teeth.
See what brand your local pet store recommends or, if ordering online, check out the reviews left by other pet parents. This is a great way to find out what the favorite puppy bed is with added pros and cons.
Adult German Shepherd
When your German shepherd
has reached its adult size then it is time to go shopping for a bed your new bigger dog has grown into. Once again, measure your dog, length, and height, especially with their legs stretched out.
Don't simply guess at a size. You don't want a bed that will have their legs dangling out, which can be very uncomfortable. If you don't think so try, sleeping with your legs hanging off the bed!
Choose the right shape for their bed too. The shape as well as the size matters. Take a few days to study just how your pup sleeps. Stretched out? Curled up? Rectangular beds are wonderful for "stretchers," while round beds are great for those dogs who love to curl up and get a comfortable snooze.
There are many different styles of dog beds to choose from beds that are just a flat mat with a cover, cuddling cave-like beds for burrowing and donut-shaped indented beds.
Consider the climate you live in as well, when choosing a bed and the material it is made of. If you live in a colder climate, your shepherd may like a warmer Sherpa-lined bed.
In a warmer location, they won't want a heavy, warm material and will prefer something cooling. Heated and cooling mats are also another consideration to keep your German shepherd
comfortable no matter the temperature.
The texture is yet another area to consider when purchasing a dog bed. Some dogs prefer a fluffy, soft texture, while others may be happy with a fabric that is smooth.
Again, washability is a concern when buying a pet bed. The bed should either have a washable cover or be completely and easily washed.
Your adult dog will not have accidents like a puppy but keep in mind that they will drool and get dirty and smelly playing outdoors. Orthopedic beds are also an option for the older, geriatric shepherd with joint problems.
When you introduce your pup's new bed, it is a good idea to wash the cover so it is not scratchy and does not have that odd new smell. Never use perfumed detergents, fabric softeners, or any dryer sheets.